An introduction to our collection
Welcome to mizu-usagi
All of our bags in this collection are made from upcycled vintage Japanese obi.  Some of the bags are blended with cotton, canvas and Japanese denim (which is the best in the world).
Simple, stylish, sustainable, beauty is our goal!
The Mini is created from a light upcycled vintage Japanese obi with woven cotton handles . It is a small practical bag that can be folded therefore it is perfect for that extra bag that you always need!
The medium Tote is created from vintage upcycled Japanese obi most of these are padded so we have incorporated the padding into the bag. Therefore they can be used for laptops, ipads, tablets etc. or just as a durable stylish shoulder bag. They all have faux leather straps with metal hardware and an inner pocket. The obis come in many different colours and designs that truly reflect the connection Japan has with its four seasons and nature. So whatever the use, occasion or event we are sure you can find something beautiful and stylish to suit you.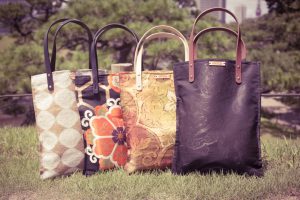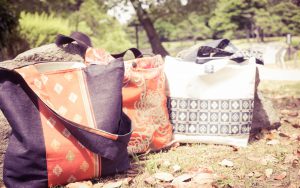 The shopper is created from upcycled vintage Japanese obi blended with denim or canvas with a cotton or silk lining. They all have a large inner pocket and extra wide shoulder straps that are handmade or created from woven cotton. The denim and canvas give these bags a modern , simple twist. We hope you like them!